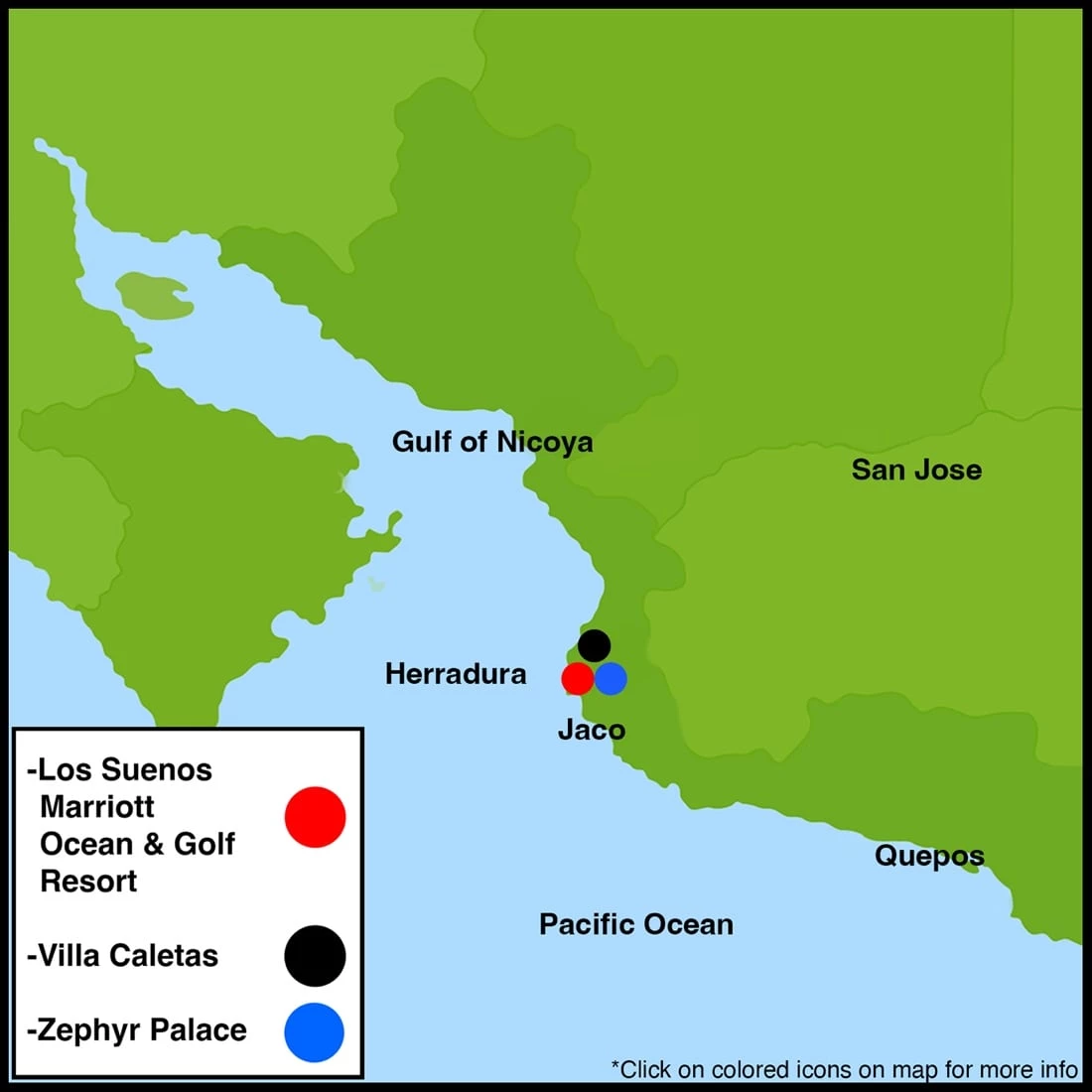 About Central Pacific
Resorts
The Central Pacific coast of Costa Rica ranges from Puntarenas at its north, all the way down to Dominical at its south. The two most popular and developed beach towns are Jaco and Manuel Antonio. Accessibility aside, the diversity of the landscape is key to the region's popularity for nature and adventure tours, its waters perfect for deep-sea fishing and its waves provide the ultimate fantasy for surfers from all over the world. Puntarenas, Jaco, Manuel Antonio, and Dominical each have unique qualities of their own, which makes this region a very valuable one, and perfect for world-class hotels to reside in, including five-star marvels such as Los Suenos Marriott Ocean & Golf Resort, Villa Caletas and Zephyr Palace.
Things to do
The diverse landscape of the Central Pacific provides guests with a wide variety of exciting and exotic nature and adventure tours such as bird watching or the crocodile safari for those nature lovers out there, and for those adrenaline junkies there is zip lining over the lush green jungle, driving ATVs through the Costa Rican countryside, white water rafting through the wild Naranjo and Savegre rivers, and kayaking or surfing in Jaco. If you like boats, then deep sea fishing on the blue waters of the Pacific may be the right choice for you, or perhaps snorkeling to admire its underwater beauty. An absolute natural wonderland, there is always something to do here!
Attractions
Thanks to its central location, there are many attractions within proximity, whether it's visiting the Vista Los Suenos Adventure Park for awesome adventure or educational chocolate tours, Los Suenos Marina to have a fabulous lunch or rent a yacht for the day, or a tour of Jaco to visit local arts & crafts stores, art galleries and boutique stores. Carara National Park is a great place to experience nature with its hiking tours or the rain forest aerial tram to view the jungles from above. If a change of scenery is what you're craving, then you can always cross the Gulf of Nicoya to Tortuga Island and enjoy its white sand beaches, or go south, down the coast to Manuel Antonio National Park where you can befriend white-faced capuchin monkeys and enjoy a cocktail while admiring its one-of-a-kind hilltop ocean views.
Do you want a fun and imaginative tailor-made experience?
Costa Rica's DMC team specializes in creating distinctive cultural experiences that connect you to the spirit of Costa Rica
Request for Proposal
FAQs
The Pacific coast of Costa Rica is renowned for its stunning landscapes and diverse experiences. Visitors can enjoy warm, sunny days on palm-lined beaches, excellent surf opportunities and immersive wilderness treks through dense jungles.
The climate is tropical, featuring a short and moderate dry season alongside an intense and extended rainy season, particularly in the southern regions. Average temperatures range from a maximum of 31°C (89°F) to a minimum of 22.7°C (73°F). The dry season typically spans from January to March.