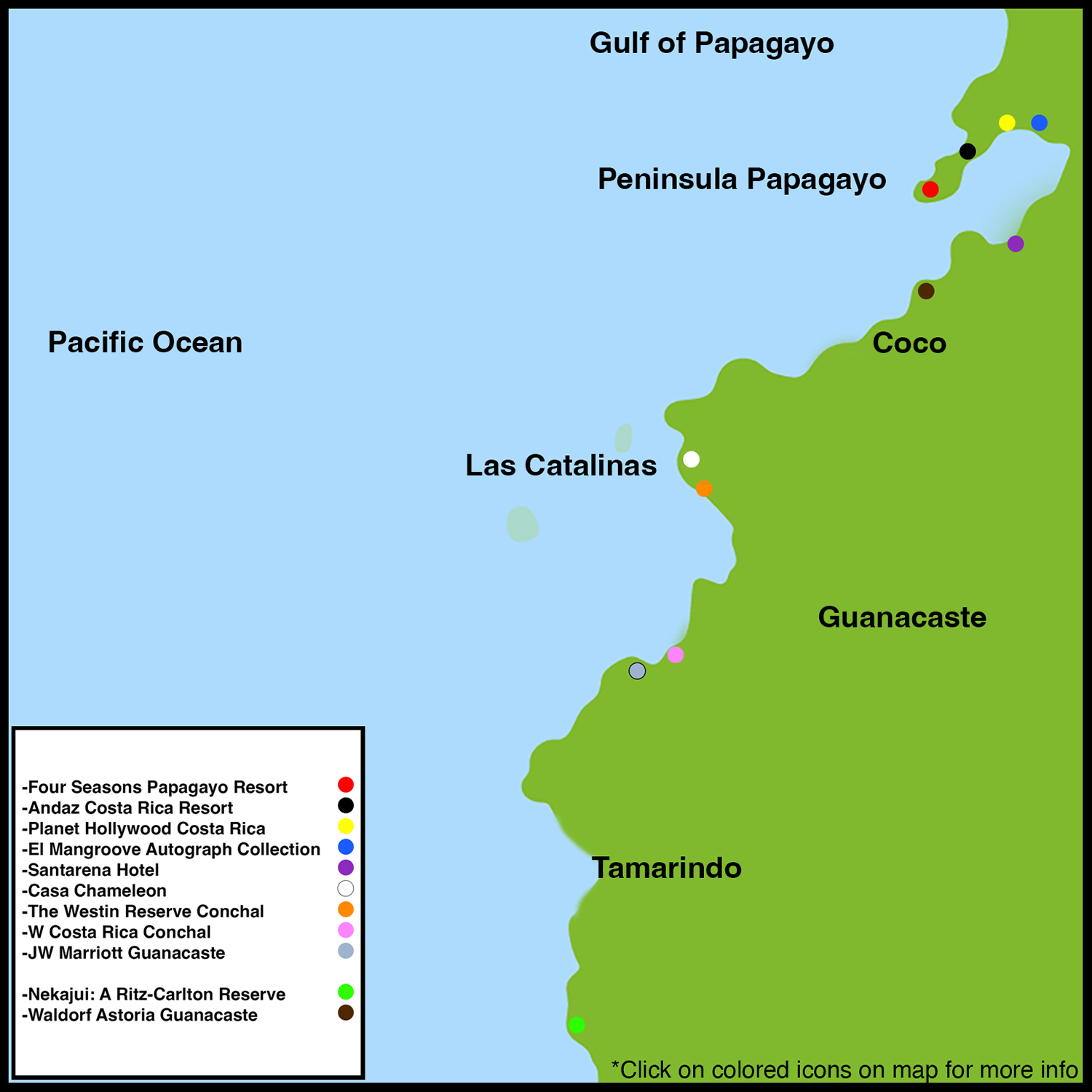 Guanacaste's attractions and exquisite resorts
Guanacaste is Costa Rica's most culturally rich region located on the North Pacific coast of the country. It boasts centuries of a vibrant culture and authentic tradition, brought to life today with food, music, art, and colors. Guanacaste International Airport (LIR) is conveniently located in the city of Liberia from where travelers flock to the incomparable natural beauty and magnificence of some of the world's most beautiful beaches, home to some of the most spectacular five-star hotels and resorts in the Papagayo and Tamarindo regions.
Gulf of Papagayo
Resorts
The Gulf of Papagayo is globally renowned for its long, picturesque tropical beaches and extensive natural surroundings. It's no surprise that this particular part of the Pacific coastline was handpicked to host some of the most breathtaking five-star hotels and resorts in Guanacaste and in the world. Within the Gulf of Papagayo lies the dreamy and exclusive Papagayo Peninsula, home to the Four Seasons Papagayo Resort, Andaz Costa Rica Resort, and very soon to the new, fabulous Nekajui: A Ritz-Carlton Reserve Residence, and on the other side, located on the coastlines of the beautiful Culebra Bay, are El Mangroove Autograph Collection and Planet Hollywood Costa Rica.
THINGS TO DO IN GUANACASTE
Stretching from the north of the Guanacaste coastline down into Culebra Bay, The Gulf of Papagayo offers a neat variety of activities. If you have no fear of heights, zip lining over the lush green jungles above the banks of the Tempisque River is just right for you! Let's say you love action and love being in the water – you can thrash through the Pacific waters on our wave runner adventure from Playa Sombrero, or go surfing the wild waves of Playa Iguanita, Witches Rock & Ollie's Point! If you're into boat rides, a sailing cruise or catamaran ride might be just the thing for you, and if you want a little more action, deep-sea fishing!
GUANACASTE ATTRACTIONS
Close by lies El Coco, well-known for its tropical beach, culinary scene and nightlife! If it's quality and luxury you seek, Peninsula Papagayo awaits you in its Ocean Course with the best golf amenities in Guanacaste, Costa Rica! Marina Papagayo welcomes boats of all shapes and sizes and has its own seaside shops, bars, restaurants, and accommodations! Change scenery and go inland to the city of Liberia, check out Calle Real known best for its beautiful colonial architecture and be sure to visit the Ermita de la Agonia Catholic church! To the northeast is the Rincon de la Vieja National Park, a natural wonder with its extensive vegetation and turquoise waterfalls, and to the southeast lies the Llanos de Cortez Waterfall, beautiful to look at and refreshing to take a dip in!
The Tamarindo area
Resorts
The village of Tamarindo is "beautifully disorganized" due to a lack of zoning regulations, its houses having been built and painted to each heart's desire randomly set up to be commercial or residential – its imperfection is its charm! It is hottest beach town in Costa Rica, well-known for its eight-foot waves and ever-present surf culture, as well as its modern culinary scenes and vibrant night life. It is located at convenient proximity to many attractions in the region, including some of the most spectacular five-star hotels such as the JW Marriott Guanacaste, W Costa Rica-Conchal, The Westin Reserve Conchal, Santarena Hotel, and Casa Chameleon.
Things to do
Tamarindo Beach, vibrant with the limitless energy of youth and action, offers many exciting activities to its visitors. Aside from surfing, without a doubt the preferred pastime, the little town is surrounded by nature and all its amenities. Among some of the most popular activities are zipline tours for those nature lovers who want a little thrill as they discover the jungle from above, ATV rides for the fast and furious, catamaran tours and boat trips for those who seek leisure or need to feel the primal sensation of deep-sea fishing, and scuba diving for those interested in seeing a whole new world underwater!
Attractions
Heading north from the Tamarindo Beach coastline is Playa Flamingo, known for its fine white sand and pristine, clear blue waters – just the place to go if you want to relax! Following up the coastline is the scenic and exclusive resort of Las Catalinas with its marvelous houses inspired by Mediterranean and Mexican architecture, built to promote a life of stress-free leisure, legend has it! Up the coast and inland lies Guaitil, a village well-known for its Chorotega pottery; the tools and techniques used are ancient and all the ingredients are natural, including the colors taken from 'curiol' soil – a treat to witness! If you're looking to be one with nature, head back down south to the Palo Verde National Park where you can take a scenic boat ride through its green jungles and see wild animals up close – crocodiles and howler monkeys are among the most frequently seen!
Do you want a fun and imaginative tailor-made experience?
Costa Rica's DMC team specializes in creating distinctive cultural experiences that connect you to the spirit of Costa Rica
Request for Proposal