Why Visit Costa Rica?
Political Stability:
Costa Rica is a model Latin American country in terms of political stability. For starters, it has the honor and privilege of having the oldest democracy in Central America, and to this day, remains the country with the most reliable political environment throughout all the years of its existence. Costa Rica abolished its army in 1948, and in 1987, its President, Oscar Arias was awarded a Nobel Peace Prize for having kept the country demilitarized and for his unwavering commitment to the cause and ultimate challenge of world peace. Peace is a point of personal and national pride for the "Tico" (what the people of Costa Rica go by). Ticos tend to be warm and well-educated, curious and respectful of foreign cultures. Spanish is the national language of Costa Rica, but English is widely spoken at every corner of the nation.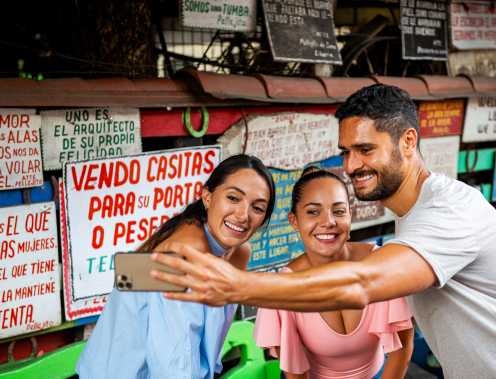 Economic Stability:
Costa Rica thrives in a stable economy, which has allowed the little country to significantly develop in the past two decades. Recognized as having the most consistent and optimum economic climate, Costa Rica is the ideal land of and for investment. Over the years, many prestigious international corporations of varying industries have set up shop, settled down in and called Costa Rica home, including but not limited to giants like Microsoft and Amazon, and some of the world's top hotels chains such as Four Seasons, Marriott, Hyatt, Hilton, and Intercontinental.
top hotels chains such as Four Seasons, Marriott, Hyatt, Hilton, and Intercontinental.
Market value is of great importance to this little tropical paradise. By the second trimester of 2022, the country's GDP was at roughly 15 million Euros, with investments playing a large role in its significant increase since 2021. Some of the main investment sectors in Costa Rica are Life Sciences (MedTech, Pharmaceuticals, Biotech), Manufacturing (Advanced & Light, Food & AgriTech), Digital Technologies (Software Development, IT Services), Creative Industries (Gaming and Animation, Marketing & Advertising, Engineering & Design), Corporate & Business Processes (Excellence Centers, Shared Services, Regional Headquarters, Supply Chain & Logistics, Financial/Consulting, Contact Centers/Tech Support, Back Office/BPO), Well-being (Personal Care, Nutraceuticals), and Tourism Infrastructure (Tourism, Sustainability).
Little-known fact: Costa Rica's top exports revolve around specialized electronics, rather than coffee beans and bananas (a very common misconception). Vital electronic essentials such as microchips, medical and dental equipment, and telecommunication technology are in fact developed and manufactured in this little tropical country and exported to nations in all parts of the world, a large concentration in North America, Central America and Asia. Not quite the stereotypical banana republic, as often it is inaccurately depicted in Hollywood culture!
Strategic Location:
Costa Rica is often referred to affectionately as the "belly button of the Americas" due to its naturally strategic and convenient location, literally connecting North America to South America. Its geographical positioning has many advantages, but perhaps the most important one is that in spite of being located relatively close to regions affected by hurricanes on a yearly basis, the hurricanes just refuse to hit the happiest country on the planet! In other words, Costa Rica is safe, as are travel plans for its visitors. Its reliability as a destination in which to travel to and from is never in question due to its nice weather. Costa Rica has two seasons – the Gold Season (from December to April, when the sun shines bright like a diamond), and the Green Season (from May to November, when the lush green jungles are caressed by fresh, tropical showers) – no winter, no summer, no extremes!
A major advantage is how easily accessible this tropical paradise is, considered to have great international lift – a significant number of flights fly in and fly out on a daily basis. Costa Rica is officially connected to many, many hub cities within North America and Europe, allowing a greater number of incoming and outgoing flights by some of the best airline services such as Delta, United and American Airlines. There are daily flights to and from New York City, Washington DC, Miami, Atlanta, Houston, Dallas and Los Angeles, as well as direct flights from Madrid, Paris, Amsterdam, Toronto, Mexico City, and several cities in most Latin American countries. Costa Rica operates in Central Time, a convenience for many of its visitors; this means little to no time difference and minimal jetlag to none, especially for those who fly in from within the Americas. Consequently, visitors make most of their stay, without suffering from exhaustion or having to work at odd hours to keep up with differing time zones.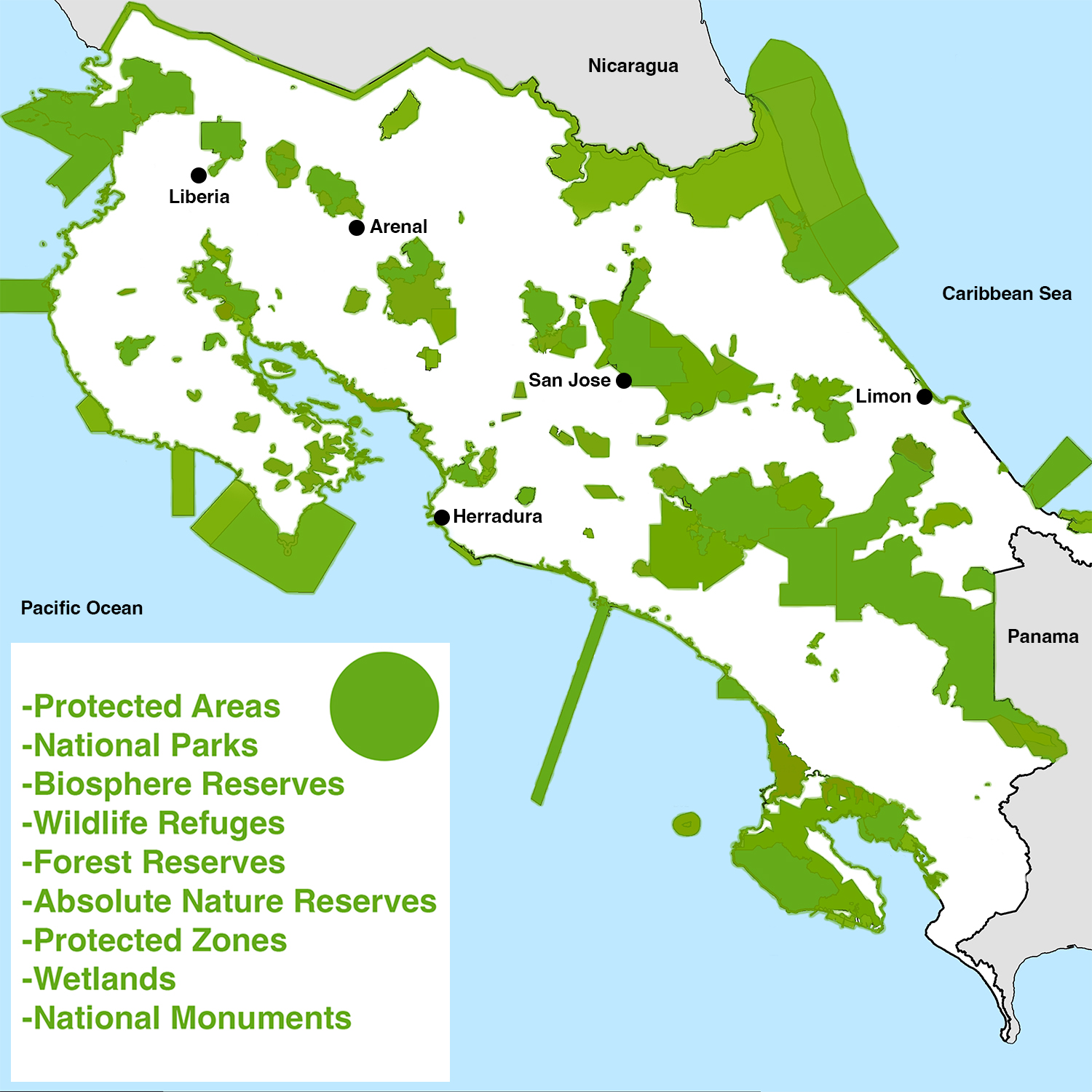 Exposure to Nature:
Perhaps the biggest attraction in this little exotic country is the instant and ever-present exposure to nature – untouched, virgin lands full of lush green jungle. It's almost overwhelming, the immense amount of green one is surrounded by at all times, be it, in rural areas or even in the city itself. Costa Rica is a world leader when it comes to the active preservation and conservation of nature; roughly 51% of the country is rainforest and over 30% of its national territory is marked for conservation – it has 27 separate national parks, 58 wildlife sanctuaries and refuges, 32 protected zones, and 19 biological and forest reserves. Such a staggering and admirable degree of care and attention has made Costa Rica into one of the world's most biologically diverse countries, containing 5% of the world's biodiversity!
Adventure:
One of the many perks and why you should travel to Costa Rica is its overwhelmingly extensive natural surroundings is the access to and the availability of an abundance of nature and adventure tours. Thanks to its compact size, the proximity of the country's varying landscapes is never an issue, which makes it so much easier for its visitors to get around and partake in many different types of activities at many different types of places. It's not everywhere one can go zip lining over the lush green jungles one moment and be White Water Rafting through the wild waters of a river the next – the decision isn't whether to go on an ATV ride through the scenic countryside or go rappelling off the face of a 100-foot waterfall, but rather, which adventure to go on first! Whether it is bird watching in complete silence and in harmony with the soothing sounds of the jungle, or the hype of hiking up an untouched mountain through mud and shrubs until you reach the very top, Costa Rica is the ultimate tropical paradise for nature lovers and adrenaline junkies alike.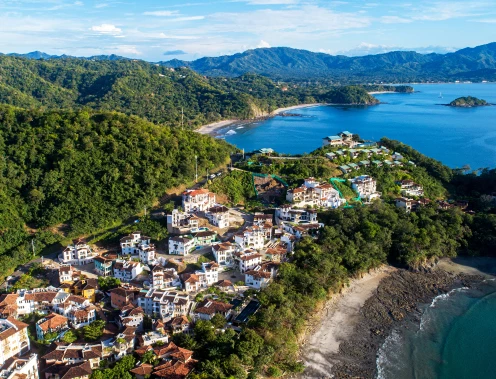 Comfort & Leisure:
Costa Rica has invested a whole lot into its own development, which has resulted in the creation of a paradise-like nation tailor-made for comfort and leisure. Its five-star hotels offer the most luxurious and comfortable accommodations, culinary experiences and leisurely activities. Why go to Costa Rica? Whether it's lying on the beach sipping rum from a coconut at the JW Marriot Guanacaste, feasting one's palate at the Michelin-awarded kitchens of the Real Intercontinental Costa Rica or spending the day playing golf at the Arnold Palmer at the Four Seasons Papagayo Resort, Costa Rica has it all!