Tourism Sustainability
Costa Rica has become a country recognized for the environmental strategies that are implemented throughout the Costa Rican territory.
In 1997, the Costa Rican Tourism Institute (ICT) created a sustainable development instrument whose purpose is to help balance tourism and the environment and thus maintain the productive capacity of the industry: the Certificate of Sustainable Tourism (CST)
"Sustainable tourism development must be seen as the balanced interaction between the appropriate use of our natural and cultural resources, the improvement of the quality of life of local communities, and the economic success of the activity; it also has to contribute to national development. Tourism sustainability is not only the response to demand, but it is an indispensable condition to compete successfully now and in the future "(Definition of Sustainable Tourism, CST 1997).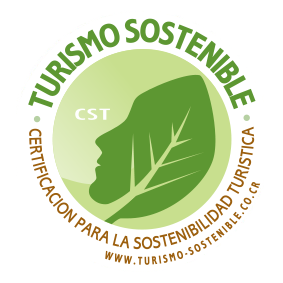 The CST is a process through which companies and organizations voluntarily analyze their operations looking for efficiency, productivity, quality, environmental impacts and customer satisfaction, which allows them to measure the level of sustainability of their operation and establish development models that enrich the community and culture, while making responsible use of resources and promoting their conservation.
Costa Rica DMC Inc. understands the importance of developing sustainable tourism and is committed to supporting and applying environmentally friendly practices that help mitigate climate change and reduce the risk of endangering the environment.
General:
Costa Rica DMC Inc. will establish policies and procedures to implement, document, maintain, and improve our methods of sustainability.
Specific:

Costa Rica DMC Inc. is committed to providing people with disabilities the equal opportunity to participate in touristic activities. We are experts when it comes to our tour destinations, the suppliers we work with, their infrastructure, services, and products, and therefore are able to inform our clients accordingly regarding the specific needs of people with disabilities. We have a strategic alliance with the Costa Rican Accessible Tourism Network, that leads the Dona Tapa project, based on collecting all kinds of plastic and plastic caps # 2, # 4 and # 5, in order to transform them into 100% recycled plastic-wood through an industrial process. This plastic-wood is used to manufacture innovative products such as retractable walkways and 'amphibious' wheelchairs to support the participation of people with disabilities in touristic activities.
Costa Rica DMC Inc. rejects the commercial sexual exploitation of children and adolescents in Costa Rica and in the world, in any form, but in particular associated with travel and tourism, as it is a conduct that violates the fundamental rights of people and is completely contrary to the intrinsic objectives of tourist activity, which are to promote peace, human rights, mutual understanding, respect for all peoples and cultures, and sustainable development. We denounce and condemn those who use tourist activity and the facilities and services it offers to promote, facilitate or tolerate the occurrence of commercial sexual exploitation of children and adolescents.
Costa Rica DMC Inc. favors the purchase of products and the contracting of services from suppliers who share the vision of contributing to sustainable development in the provision of tourism services in the country. We favor, support and promote certified suppliers who follow sustainable practices.
At Costa Rica DMC Inc., we have zero tolerance regarding the commercialization or exhibition of historical and archaeological artifacts, and we denounce those who incur these practices.
At Costa Rica DMC Inc., we are aware of the dire need to conserve water, the most important natural resource which solely determines the existence of all types of life on planet earth, be they humans, plants or animals, we are committed to:
-Promote reasonable water usage, both in the office and in the development of our tourist activities.
-Encourage our clients to practice reasonable water usage during their stay.
-Keep a plan that helps us monitor and control our monthly water consumption in the office.
-Develop a preventive maintenance program in our office.
-Improve our vehicle washing routine.
-Carry out awareness programs among our collaborators and suppliers regarding the reasonable and efficient use of water.
-Report sources of water contamination in host communities.
Costa Rica DMC Inc. organizes, promotes and executes community development programs among local communities that include infrastructure, education, health, environment, and climate change, through donations and volunteers.
Action plan against climate change
-Pay attention to our noise levels and respect the rights of others to enjoy a comfortable environment
-Use the vehicle's horn conservatively, only to prevent accidents
-Avoid sudden accelerations and the use of free exhausts
-Use short duration alarms
-Listen to music at a level that does not cause discomfort to others
-Moderate cell phone ringtones
-Speak at a moderate volume
-Move chairs, tables or other furniture without making noise
-Close the doors without slamming them
-Limit the time of use of headphones, use them at a moderate noise level and try not to use them in noisy environments or means of transport
-Eliminate the purchase and subsequent consumption of aerosols or sprays with a composition of chlorofluorocarbon gases (CFC)
-Avoid using fire extinguishers that contain halons, a very aggressive substance for the ozone layer
-Perform periodic preventive maintenance of air conditioners in the office and in automobiles
-Use energy saving light bulbs
-Carry out carpooling promotion campaigns
-We protect and if applicable restore ecosystems affected by our operation, and promote their sustainable use
-We create alliances with national parks and biological reserves for the restoration of ecosystems through reforestation campaigns with our collaborators
-We avoid the use of exotic and invasive species in our operations and promote the use of native species in our offices
-We do not acquire, keep in captivity, reproduce, consume, display, interact with, sell or trade wild species
We were very satisfied by Costa Rica DMC. From the moment our group landed, we felt at ease and confident in their work. Our excursions were managed perfectly and all of the guides were friendly, knowledgeable and engaged. They made our travelers feel at home and comfortable, even helping them with some of the activities. Costa Rica DMC exceeded our expectation and I would recommend them to anyone looking for a good partner in Costa Rica.
Thanks
Thank you for the time and energy you put into giving us an amazing tour of Costa Rica! You are a very capable and professional ambassador for your country. We loved every bit of it. I especially loved all the details you gave me about plants, animals, climate, history while answering my endless questions! I hear your voice as I tell my friends and family about our adventures.
The thoughtful gift of the coffee ox cart is on our dining room table and have enjoyed the coffee and chocolate as well! We are so looking forward to the next trip and seeing you in February. We wish you good health and happiness until we see you again.
Hi my Costa Rican friends,
I just wanted to say what a wonderful experience it was working with all of you😊
Everyone on your staff was extremely professional and knowledgeable.
Thank you for helping to make our Costa Rican experience wonderful!
I should be the one thanking you!  Your service was outstanding and your entire team was top notch! Thank you for being on point from start to finish, keeping us safe and getting us everywhere we wanted to go!  If you're ever working with a group that is asking for a reference send them my way!  I will let them know exactly how wonderful all of you are!
Thank you
You and the rest of the Costa Rica DMC staff were amazing. From the initial planning to the onsite events, everything was well organized and executed perfectly. We couldn't have put together a successful event without you! Thank you!
I just wanted to say a big thank you for taking such good care of our group last week! I've heard nothing but great things from Dana and Megan. It was hard for me not to be there, but I knew our group was in good hands with your team 🙂
If you ever need a reference for a prospective client please send them my way, I would be happy to give you a great one!
Thanks again!!
It was a pleasure working with you and the entire Costa Rica DMC team. We really appreciate your flexibility, attention to detail and overall level of service. I cannot thank you enough for everything you did to ensure the group had a great experience. You will be the first person/company I refer people to for future trips/group travel.
I want to thank you personally for helping me with the customs debacle when I arrived. I would have been lost without you and am extremely grateful you were there to assist. I'll count getting the headphones and name tags back as a success. Also it made for a good/funny story and lesson learned for the future 🙂
Please let me know if you ever need a reference in the future. It was a pleasure working with you.
Pura Vida!
Everything was exceptionally ran, from beginning to end!  I heard nothing but great comments about your airport transfers, the band, the activity and the catamaran sail.  Thank you so much for everything you and your staff did to make it a great experience for everyone!  I will definitely look to Costa Rica DMC if we are in Costa Rica in the future.  Thanks again!
I have to tell you, the Costa Rica DMC was the best I've ever worked from (and I've been doing this for over a decade). From start to finish you and your team were incredibly responsive, efficient, and my guests were entirely impressed with the experiences you provided them with. Not a detail was missed. I can't thank you enough for your attentiveness. I knew that my people were in good hands, even though I was a country away.Thank you for all that you do. I hope that we will get another chance to work together in the future! All the best
Thank you so much for  the Gordita!  She's a beautiful piece of art and I have the perfect place to display her at home. Also thank you to you and your team!  Everything turned out fantastic and everyone was so nice and easy to work with! If you or your company ever need a reference please feel free to use me! Thanks again!  Have a good evening!
Thank you for the beautiful Gordita!  And thank you so much for handling our transportation and activities!  Sorry we had so many changes but everything turned out great!  Our group said the band was the best we've ever had!
Thanks to everyone on both of your teams!  You were all great to work with and everyone was so helpful and friendly!
Thanks again!
Thank you so much for the delicious strawberries!  And thank you for working so hard to make our event so successful and so much fun!  The food was all fantastic!  And the Cimaronas were a lot of fun!
Thank you so much for all of your hard work.  Everything was amazing.  Cool call on the band...I have received many great comments about them. Thank you for the strawberries and for the beautiful Gordita.
Are you interested in an adventure?
Costa Rica's DMC team specializes in creating distinctive cultural experiences that connect you to the spirit of Costa Rica
Contact Us